Sun Ship Hull No:

001
Original Name:


Chester Sun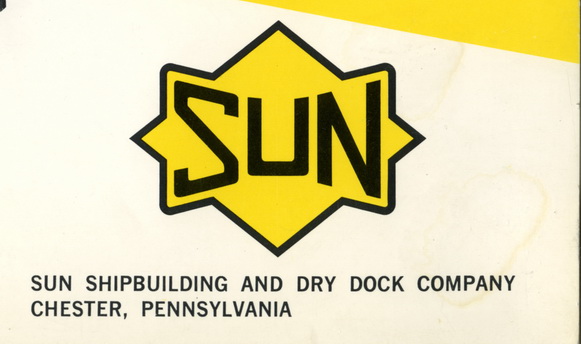 Owner:



  Sun Oil Co.
Launching Date:

10.30.1917
L-B-D:



   430'0"-59'0"-33'3"
D.W.T:



   10,600
Type:



     Tanker
HP:




  2,600
Speed/Knots:

    10-1/2
Ceremonial rivet punching from the first keel plate

of Sun Ship's Hull No. 001 that was given to

J. Newton Pew, Vice-President of Sun Ship at the time of the launching on 10.30.1917

Photo courtesy of HML 74.319.0001

Laying of the first keel plate at Sun Ship, on No.1 Shipway on 01.27.1917 for Hull No.1 ('Chester Sun')

Photo courtesy of HML: 74.319.0004

Launching of Hull No. 001 on 10.30.1917, now officially named the 'Chester Sun'. Typically, during construction, ships are identified by their hull numbers. At christening, for the first time, they would be identified by the name given at the christening

Photo Courtesy of HML: 74.319.0003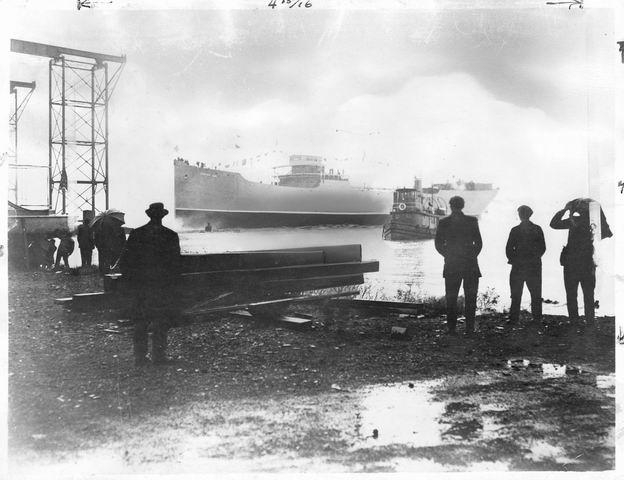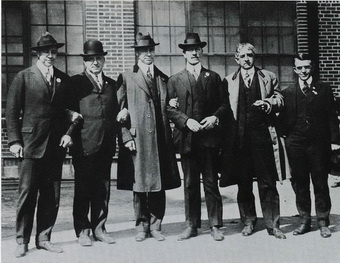 Posing at first Sun Ship launching are (L to R); Joseph N. Pew, Jr. Vice-President of the shipyard, Charles Schwab, president of Bethlehem Steel Corp., who helped design layout of yard; J. Howard Pew, (President of Sun Oil-DMK) then also president of Sun Ship, Richard Haig, vice president, engineering division, Sun Ship, who retired from the shipyard in 1950; William I. Schaffer, Sun Ship legal counsel and later Chief Justice of the Pennsylvania Supremem Court, and Hervey Shoemaker, who was the shipyard's first treasurer.

From: Our Sun 75th Anniversary Issue (Sun Oil Publication)

Courtesy of SSHS.

SSHS was extrememly fortunate to acquire the launching plaque from Sun Ship's first ship, the 'Chester Sun', Hull 001. Launching plaques were given to the sponsor of the ship during the day of the ship's christening. In this case, the plaque was given to Mrs. J. H. Pew, wife of the President of Sun Oil Co., J. Howard Pew, on 10.30/1917.

Photo courtesy of SSHS